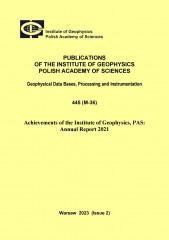 Publications of the Institute of Geophysics, Polish Academy of Sciences
Series
Publications of the Institute of Geophysics, Polish Academy of Sciences provide original solutions in geophysical measurements, instrumentation, data collections, presentations and analysis.
Recent publications
Achievements of the Institute of Geophysics, PAS: Annual Report 2021
Author(s):
Volume: 445
Series: M-36
DOI: 10.25171/InstGeoph_PAS_Publs-2023-002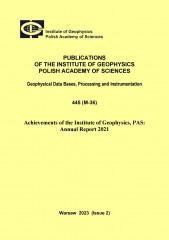 This Monograph outlines the recent achievements of the Institute of Geophysics, Polish Academy of Sciences, focusing on the main strategic areas: Geosystem Processes, Earth Structure and Georesources, Anthropogenic and Natural Geohazards, Climate Change and Polar Research.
The publication is a reviewed and formatted version of the Annual Report 2021, providing information about the research done at the seven departments (Seismology, Atmospheric Physics, Lithospheric Research, Theoretical Geophysics, Hydrology and Hydrodynamics, Magnetism, Geophysical Imaging, and Polar and Marine Research), together with the Institute's infrastructure, instrumentation, projects that have been completed or are under way, as well as editorial, educational and many other activities.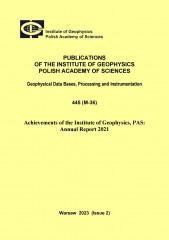 Sensitivity of the GEM Model to Different Descriptions of City Surface Parameters over Warsaw
Author(s):
Sattari A.
Volume:
444
Series:
D-78
DOI:
10.25171/InstGeoph_PAS_Publs-2023-001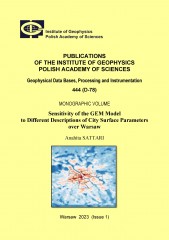 Over half of the world's population lives in urban areas, even though urban agglomerations cover only 0.05% of the Earth's surface. Urbanisation significantly modifies the surface level's moisture, radiation balance, thermal stability, and aerodynamic properties. The physical processes in the urban surface layer directly influence the atmosphere above and, specifically, the atmospheric boundary layer. Thus, understanding and modelling these processes are necessary for studying the urban meteorology.
The primary objective of the presented research was to assess the impact of the urban land cover on the development of the atmospheric boundary layer over Warsaw.