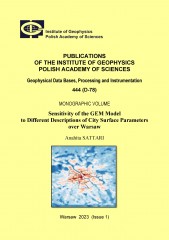 Publications of the Institute of Geophysics, Polish Academy of Sciences
Series
Publications of the Institute of Geophysics, Polish Academy of Sciences provide original solutions in geophysical measurements, instrumentation, data collections, presentations and analysis.
Recent publications
Sensitivity of the GEM Model to Different Descriptions of City Surface Parameters over Warsaw
Author(s):
Sattari A.
Volume:
444
Series:
D-78
DOI:
10.25171/InstGeoph_PAS_Publs-2023-001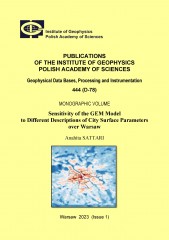 Over half of the world's population lives in urban areas, even though urban agglomerations cover only 0.05% of the Earth's surface. Urbanisation significantly modifies the surface level's moisture, radiation balance, thermal stability, and aerodynamic properties. The physical processes in the urban surface layer directly influence the atmosphere above and, specifically, the atmospheric boundary layer. Thus, understanding and modelling these processes are necessary for studying the urban meteorology.
The primary objective of the presented research was to assess the impact of the urban land cover on the development of the atmospheric boundary layer over Warsaw.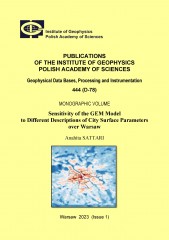 Book of Extended Abstracts. International Symposium on Drought and Climate Change, 24–25 November 2022
Author(s):
Volume: 443
Series: E-13
DOI: 10.25171/InstGeoph_PAS_Publs-2022-028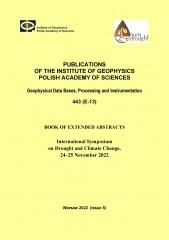 The International Symposium on Drought and Climate Change was organized within the frame-work of the NCN SHENG project HUMDROUGHT (humdrought.igf.edu.pl), by the Hohai University (China) and the Institute of Geophysics, Polish Academy of Sciences (Poland). The meeting was held online from 24–25 November 2022.During the symposium, 4 Keynote and 19 standard Speeches were presented by representa-tives of 11 countries, namely: China, Columbia, Ethiopia, Germany, India, Iran, Italy, Nether-lands, Poland, Spain, and Tunisia. The number of participants in the Symposium reached al-most 50.Drought-related issues have been discussed, focusing on multiple spatiotemporal scales to pin-point global to continental trends, as well as showing how drought affects specific countries and catchments.