M - Miscellanea
Bibliography of Polish Research in Spitsbergen Archipelago. Part II: 1997-2006
Editor(s):
Giżejewski J.
Volume:
407
Series:
M-31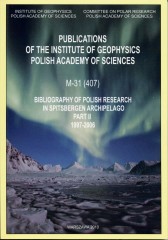 We are giving to the still growing community of people interested in Spitsbergen and its surroundings a second part of the Bibliography of Polish Research in Spitsbergen Archipelago, covering the years from 1997 to 2006. The aim of the editors was to gather bibliographic information on scientific papers of Polish researchers. In some cases, we took into account foreign authors who closely cooperated with Polish teams in the area of Spitsbergen and around: Greenland, Iceland, Greenland Sea, Barents Sea, and the Russian Arctic. We also included publications of popular-science and informative character, which contribute to the history of research in the period covered by the Bibliography.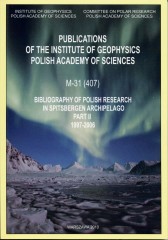 Rola Procesów Fizyczno-Chemicznych w Kształtowaniu Struktury Wewnętrznej i Obiegu Masy Lodowców Spitsbergenu. - Role of Physical and Chemical Processes in the Internal Structure Formation and Mass Circulation of Spitsbergen Glaciers
Author(s):
Głowacki P.
Volume:
400
Series:
M-30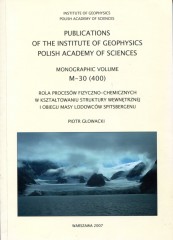 W globalnym obiegu wody i energii na Ziemi lodowce spełniają rolę, której nie można pominąć. Chociaż powierzchnia zlodzenia na Ziemi wynosi niespełna 16,3 mln km2 (Szumski, Krenke 1965), co stanowi 11% powierzchni lądów naszego globu, to obszary pokryte lodowcami znacząco oddziaływują nie tylko na tereny przyległe, ale również,co należy podkreślić, na klimat w sensie globalnym. Jednocześnie lodowce podlegają wpływom zmieniającego się klimatu.