E - Hydrology (formerly Water Resources)
Computational Modeling for the Development of Sustainable Water-Resources Systems in Poland. US-Poland Technology Transfer Program
Editor(s):
Altinakar M.
,
Czernuszenko W.
,
Rowiński P.
,
Wang S.
Volume:
387
Series:
E-5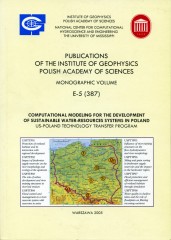 World peace can be better sustained with the accelerated transfer of technology - has been a belief at NATO, US Congress and the National Center for Hydroscience and Engineering (NCCHE) since the mid 1990's. With the support and funding from the US Congress, the NCCHE has been planning to transfer the state-of-the-art research and management tools, computational models, in the areas of water resources and environmental engineering to foreign countries. The objective of the project is to assist the researchers and engineers in those countries who plan tro speed up the development of their water resources and the improvement of their environmental quality, which shall result in the enhancement of their people's living standard, as well as desire for peace.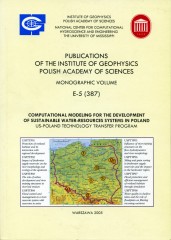 Potential Climate Changes and Sustainable Water Management
Editor(s):
Liszewska M.
Volume:
377
Series:
E-4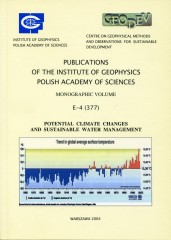 In recent years it has become obvious that operational use of natural resources assuming their stationarity represents too narrow view of this complex issue. A change of paradigm seems to be developing, the two main principles of which are: the increased role of geo-sciences in assessing non-stationarity of resources potential, and postulate for their sustainable exploitation in the face of global change. Sustainability criteria provide a framework for prioritising competing interests and for making decision about safe and stable use of resources.