XII IAGA Workshop on Geomagnetic Observatory Instruments, Data Acquisition and Processing, Belsk, 19-24 June, 2006
Editor(s):
Reda J.
Volume:
398
Series:
C-99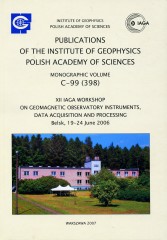 The XII IAGA Workshop was held on June 19-24, 2006, at Belsk Observatory, Poland. IAGA workshops are cyclic events taking place every two years at various magnetic observatories over the world. The decision about the place and date of the Belsk workshop was undertaken during the 23rd IUGG General Assembly in Sapporo in July 2003.
MONOGRAPHIC VOLUME
Download PDF
Export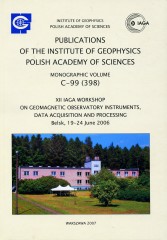 Proceedings of XII IAGA Workshop on Geomagnetic Observatory Instruments, Data Acquisition and Processing. Preface
Author(s):
Reda J.
Series:
(C-99), 2007, pp.3-4
Measurement session during the XII IAGA Workshop at Belsk
Author(s):
Reda J.
,
Neska M.
Series:
(C-99), 2007, pp.7-19
Abstract:
In this paper, we describe the Measurement Session which took place during the XII IAGA Workshop on Geomagnetic Observatory Instruments, Data Acquisition and Processing at Belsk in June 2006. During the session, comparative measurements and tests were made for 29 DI-flux magnetometers and 5 proton magnetometers. Also, a theoretical and practical training on how to perform absolute magnetic measurements was made.
Past and present of Polish geomagnetic observatories
Author(s):
Jankowski J.
,
Marianiuk J.
Series:
(C-99), 2007, pp.20-31
Abstract:
The paper outlines the history of Polish magnetic observatories, beginning from the oldest, presently inactive one, at Świder, to the three observatories operating at present: Belsk, Hel, and Hornsund. We describe changes in the equipment throughout the years, the present instrumentation and accuracies. While discussing the quality of data, of utmost importance is the lack of gaps in the recordings, and the high stability of bases. A specific trait of our observatories is the fact that the instruments they use are mostly of our own make.
50 years of history of the Tihany Geophysical Observatory
Author(s):
Csontos A.
,
Hegymegi L.
,
Heilig B.
,
Kovacs P.
Series:
(C-99), 2007, pp.32-37
Abstract:
The magnetic observation at Tihany Geophysical Observatory was started more than fifty years ago, in 1955. On the occasion of achieving this historical age, the brief history of the geomagnetic measurements in Hungary and the activities at Tihany Geophysical Observatory is presented. The article gives a retrospective review at the development of the instrumentation, survey campaigns and international connections of the observatory.
Keetmanshoop - A new observatory in Namibia
Author(s):
Linthe H.
,
Kotze P.
,
Mandea M.
,
Theron H.
Series:
(C-99), 2007, pp.38-45
Abstract:
One of the most fascinating geophysical studies in southern Africa is to track the evolutionary behaviour of the geomagnetic field. The Keetmanshoop Observatory was installed in 2005 on the premises of the Keetmanshoop Airport as part of a collaboration project between Hermanus Magnetic Observatory (HMO) and GeoForschungsZentrum Potsdam (GFZ). This location was specifically chosen about halfway between Hermanus in the South and Tsumeb in the North in order to correct for disturbance effects from external sources and to refer the repeat station data to a common epoch during field surveys. This newlyestablished INTERMAGNET-grade observatory will play a key role in the region, as a reference magnetic observatory for field stations within a radius of 600 km located in the large area between the Northern Cape and southern Namibia, a region which has not been adequately covered in the past. In addition it will also serve as an accurate monitor of spatial changes in secular variation across southern Africa.
Replacement of Gnangara (GNA) with a new observatory at Gingin
Author(s):
Crosthwaite P.
,
Hopgood P.
,
Lewis A.
Series:
(C-99), 2007, pp.46-48
Abstract:
Geoscience Australia currently operates 9 geomagnetic observatories on the Australian continent, islands, and the Australian Antarctic Territory. One of these, Gnangara Observatory, is located in the south-west of the Australian continent, on the outskirts of the city of Perth. Along with the recent urban encroachment there have been numerous break-ins, incidents of vandalism, and theft of equipment, often leading to significant data losses and expenses. For these security reasons only, a phased replacement of the Gnangara Observatory by a new observatory at Gingin, 52 km north of Gnangara, is being planned.
GAUSS: Geomagnetic Automated System
Author(s):
Auster H.
,
Mandea M.
,
Hemshorn A.
,
Korte M.
Series:
(C-99), 2007, pp.49-59
Abstract:
During the XIIth IAGA workshop on geomagnetic observatory instruments in Belsk we presented an instrument measuring the geomagnetic field automatically and absolutely, which was developed by Technical University Braunschweig and GeoForschungsZentrum Potsdam. This paper deals with the instrument basics, the design of the prototype and the measurement results obtained in Belsk. The method is based on the rotation of a three-component fluxgate magnetometer about precisely monitored axes without using a non-magnetic theodolite. This method is particularly qualified for automation because it only requires exact knowledge of the axes orientations. Apart from this, requirements on mechanical precision are moderate.
Advanced proton magnetometer design and its application for absolute measurement
Author(s):
Auster V.
,
Hillenmaier O.
,
Kroth R.
,
Wiedemann M.
Series:
(C-99), 2007, pp.60-68
Abstract:
A new processor controlled Proton Magnetometer design and its application for an automated absolute measurement will be presented in this paper. The new design is based on an online signal processing of single period measurements of the sensor signal, aiming to improve the resolution and to valuate the signal quality. Applying a cylindrical coil for auxiliary fields, optimized for high homogeneity, a measurement of the geomagnetic field vector can be realized. To demonstrate the need for homogeneous coils, the relation between the homogeneity of the probe volume and the relaxation of the resulting sensor signal will be shown. In order to perform an absolute measurement, the system is equipped with a telescope, aligned along the coil axis and it can be rotated by a motor about its vertical axis. In contrast to conventional methods, the requirements on manual skills of the observer are quite moderate. Furthermore, an option for full automation is provided.
New concepts in geomagnetic observatories operation
Author(s):
Rasson J.
,
van Loo S.
Series:
(C-99), 2007, pp.69-76
Abstract:
Using the IAGA definition of a geomagnetic observatory and a wish list from geomagnetic data users, we look into new ways to fulfill these requirements using the new developments in absolute and variometric instrumentation. We try to project how future observatories will look like, especially considering the new automatic instruments which will soon be forthcoming.
Presentation of the prototype of an automated DIFlux
Author(s):
van Loo S.
,
Rasson J.
Series:
(C-99), 2007, pp.77-86
Abstract:
Recently, we developed the first prototype of an automated DIFlux. This instrument performs absolute measurements of the geomagnetic field orientation (declination and inclination), without requiring the intervention of a human operator, nor maintenance. New possibilities are offered to the geomagnetic surface observatories, which may be completely automated in the near future. This may be particularly important for measurements in locations that are difficult to access, such as remote areas and the seafloor, hence improving the distribution of observations on the Earth's surface. Obviously, the instrument itself should not disturb the field to be measured. In this context, automation is a big challenge because several key elements, like the sensors, the motors, the angular encoders and the electronic circuits, contain generally ferromagnetic elements and conduct electrical currents, which may disturb the observations. Solutions to carry out the operations of sensor rotation, precise electronic reading of the angles and automatic orientation in the reference frame (determined by the local horizontal plane and geographic North) without disturbing the magnetic field will be exposed.
Underwater magnetometer MG-01/2003 for geomagnetic offshore soundings
Author(s):
Marianiuk J.
,
Jóźwiak W.
,
Neska A.
,
Neska M.
Series:
(C-99), 2007, pp.87-92
Abstract:
A magnetometer constructed to carry out geomagnetic variation measurements on the sea bottom is described. The main difference between onshore and offshore variation measurements is – beside requirements concerning protection against the underwater environment – the fact that an offshore instrument cannot be placed according to the geomagnetic (or geographic, respectively) coordinate system. It has to be aligned "virtually" instead, by means of additional clinometer records after the real measurement. The software performing this is described here as well. The instrument has been applied successfully in the Baltic Sea several times. The data achieved thereby fits very nicely in the well-investigated onshore surrounding and efficiently helps to understand the structure of electric conductivity in the subsurface of this region.
Schumann resonance observation in Polish Polar Station at Spitsbergen and Central Geophysical Observatory in Belsk
Author(s):
Neska M.
,
Satori G.
,
Szendroi J.
,
Marianiuk J.
Series:
(C-99), 2007, pp.93-98
Abstract:
Two sets of Schumann resonance apparatus, each consisting of an electric ball antenna and two induction magnetometers, have been constructed in Belsk Observatory in 2003 and 2004. The apparatus have been installed in the Polish Polar Station in Hornsund at Spitsbergen as well as in Belsk Observatory. The vertical electric (Ez) and the horizontal magnetic (Bx, By) components have been measured in Hornsund and Belsk since September 2004 and February 2005, respectively. The sampling rate amounts to 100 Hz. The parameters of the magnetic and electric sensors make it possible to register four Schumann resonance modes (8, 14, 20 and 26 Hz). The observation results are presented.
A new model of telluric amplifier for magnetotelluric soundings
Author(s):
Tomczyk S.
Series:
(C-99), 2007, pp.99-104
Abstract:
In 2005, a new series of two-channel telluric amplifiers has been designed and constructed at Belsk Observatory. This model named TWG-0501 is designed mainly for magnetotelluric field measurements. These amplifiers basing on microprocessors provide a number of new functions, e.g., automatic compensation for the constant part of input voltage and remote setting of working parameters by means of a RS-232 interface and a local computer network. The range of input voltage is ±100 mV and that of output voltage ±10 V for this device. More details are presented in this article.
Project of absolute three-component vector magnetometer based on quantum scalar sensor
Author(s):
Vershovskiy A.
Series:
(C-99), 2007, pp.105-109
Abstract:
А project of vector magnetometer of new kind based on optically pumped quantum Mx-sensor placed in symmetrical magnetic coils system is proposed and mathematically proved. The device uses a new method of the fast precision measurement of three Earth magnetic field (EMF) vector components providing absolute accuracy of the order of 0.1 nT at 0.1 s sampling rate. Absoluteness here implies that the process of measurement changes the measured parameter, i.e., field component value, no more than by the value determined by the sensitivity of scalar sensor. The short-term resolution of the method is determined by the Mx-sensor sensitivity.
Fast 3-component variometer based on a cesium sensor
Author(s):
Vershovskiy A.
,
Balabas M.
,
Ivanov A.
,
Kulyasov V.
Series:
(C-99), 2007, pp.110-113
Abstract:
New compact and fast three-component variometer measuring the total terrestrial magnetic field intensity in 20÷65 μT range and two transverse components in ±1 μT range is presented. The reproducibility of the field components measurements is 0.15 nT, the noise-limited sensitivity is 0.01 nT r.m.s. or 0.25″ at 0.1 s sample rate.
Extending magnetic observations to seafloor: the case of GEOSTAR and ORION missions in the Adriatic and Tyrrhenian seas
Author(s):
De Santis A.
,
Di Mauro D.
,
Cafarella L.
,
Palangio P.
Series:
(C-99), 2007, pp.114-122
Abstract:
GEOSTAR (1 and 2) and ORION-GEOSTAR 3 seafloor missions have been performed in the frame of a European project whose main objective is the deep-sea investigation by means of an automatic multidisciplinary observatory. During the three GEOSTAR missions it has been possible to acquire scalar and vector magnetic data, useful to improve global and regional geomagnetic reference models and to define sub-surface electric conductivity structure. In this work, after a brief description on the calibration and orientation of acquired data, we propose some estimations of the electrical conductivity of the lithosphere beneath the three different measurement sites.
Comparison of observatory data in quasi-real time
Author(s):
Nowożyński K.
,
Reda J.
Series:
(C-99), 2007, pp.123-127
Abstract:
The quality of magnetic observations depends on such factors as: parameters of the recording instruments, and mainly their stability; the accuracy with which the so-called bases are being determined; the precision with which the sensors are positioned and the accuracy of scale values determination.
Every observatory has its own procedures for verifying these parameters. In this paper we present a method of data verification based on: (a) comparison of data calculated from vector magnetometer records with the proton magnetometer records, (b) comparison with data recorded at other observatories.
We present Internet software enabling a comparison between any two observatories. It is possible to compare current data (Reported or Adjusted) as well as Definitive data. The address of Web page for making the comparison is the following: http://rtbel.igf.edu.pl.
The new BCMT magnetic database
Author(s):
Fouassier D.
,
Chulliat A.
Series:
(C-99), 2007, pp.128-134
Abstract:
The "Bureau Central de Magnétisme Terrestre" (BCMT) is a French organization in charge of the processing and distribution of magnetic data from 16 observatories (AAE, AMS, BNG, BOX, CLF, CZT, DRV, KOU, LZH, MBO, PAF, PHU, PPT, QSB, TAM, TAN), including those run in cooperation with foreign countries. The goal of this project is to carefully check all BCMT data and make them available on a public website in IAGA-2002 format. Data include hourly, daily, monthly and annual means as well as minute values when available. This task is quite simple for data dating from the INTERMAGNET era data, since occasional errors and discontinuities are known and well documented on CD-ROMs. However, some difficulties arise for older data, such as: missing or hard-to-find information on sampling rate, instruments and centering of hourly values; discrepancies between data in numerical format, data printed in yearbooks and data currently available in World Data Centers; spikes; undocumented data corrections. Such problems are occasional, but ought to be consistently tackled prior to scientific usage of old magnetic data.
The hourly mean computation problem revisited
Author(s):
Schott J.
,
Linthe H.
Series:
(C-99), 2007, pp.135-143
Abstract:
The computation of hourly means based upon one minute values raises the question of the influence of gaps on the mean values. The issue is revisited in this paper from a statistical point of view. In a first step, relevant statistics for gap and data distribution within hourly intervals are built up using actual time series. Then, the statistics are applied to full one minute field values in order to evaluate the dispersion of the hourly means due to the gap and data statistical distribution. The data from PAF observatory (Port-Aux-Français, Kerguelen Island) in the range 1999 to 2003 is used for illustration.
Intercalibration of dIdD and fluxgate magnetometers
Author(s):
Heilig B.
Series:
(C-99), 2007, pp.144-151
Abstract:
Fluxgate magnetometers are the most frequently used vector magnetometers in current observatory practice. However, at more and more sites, alternative solutions, e.g. dIdD magnetometers are also applied to record the geomagnetic variation. In this paper we demonstrate the advantage of the simultaneous use of a fluxgate and a dIdD by introducing a cross-calibration between these instruments. The calibration of a fluxgate is a process to determine 9 parameters including 3 scale factors, 3 offset values, 3 orthogonality parameters. As follows from the dIdD principles, the dIdD is void from offset and scale factor errors. Therefore, to calibrate the dIdD one has to determine one single orthogonality error; the other orthogonality conditions are satisfied automatically since the 3rd dIdD axis is defined mathematically as perpendicular to the two physical axes of
the instrument. Furthermore, the intercalibration can yield information on relative orientation errors, i.e. the orientation of one instrument can be determined relative to a well-oriented reference instrument.
On the various published formulas to determine sensor offset and sensor misalignment for the DI-flux
Author(s):
Matzka J.
,
Hansen T.
Series:
(C-99), 2007, pp.152-157
Abstract:
An inconsistency regarding the calculation of sensor offset and sensor misalignment for the fluxgate theodolite in the IAGA Guide for Magnetic Measurements and Observatory Practice (Jankowski and Sucksdorff 1996) is discussed and resolved by comparison of the given formulas and examples with the original literature (Kring Lauridsen 1985) and experimental data. An erroneous sign is found on page 99 in formula (5.7) for inclination collimation and formula (5.8) for sensor offset calculated from the declination measurement. Jankowski and Sucksdorff (1996) have the same formulas as Kring Lauridsen (1985), but a different sequence of theodolite positions for the declination measurement led to a confusion of input variables and consequently to the erroneous signs. An electronic version of Kring Lauridsen (1985) is now available on request.
An assessment of the BGS δDδI vector magnetometer
Author(s):
Marsal S.
,
Torta J.
,
Riddick J.
Series:
(C-99), 2007, pp.158-165
Abstract:
Assuming optimal conditions, the δDδI vector magnetometer can be considered as a semi-absolute instrument. In this paper, the real situation and its differences with the ideal one are critically examined and regarded as potential sources of error. The analysis is applied to the equipment designed by the British Geological Survey (BGS) in the late 1980s, and the given figures are provided from the instrument in use at the Livingston Island Geomagnetic Observatory (LIV). Improved versions have been developed since then, being based on generally the same principles of measurement; thus, most of the results shown can be adapted to the new generation of magnetometers of this type.
Quality assurance project for the magnetic calibration and test laboratory of the Nurmijärvi Geophysical Observatory
Author(s):
Pajunpaa K.
,
Genzer M.
,
Posio P.
,
Nevanlinna H.
Series:
(C-99), 2007, pp.166-170
Abstract:
The magnetic calibration and test laboratory of the Nurmijärvi Geophysical Observatory is aimed for magnetometer and compass calibrations, for magnetic cleanliness measurements and for compass swing base measurements at airfields. The increased importance of space and aviation industry has given rise to the development of the quality system for the calibrations and tests. The European standard EN ISO/IEC 17025:2000 states the demands for the quality system. This standard has been followed both for technical and management requirements. We will describe main technical parameters and competence of the laboratory. Traceability to the international standards is fulfilled and comparisons with other laboratories have been made.
Temperature tests on modern magnetometers
Author(s):
Csontos A.
,
Hegymegi L.
,
Heilig B.
Series:
(C-99), 2007, pp.171-177
Abstract:
Geomagnetic observatory and field work needs very accurate measurements. The precision of the measurements is affected by several factors but one of the most important is the temperature change. That is why every observatory tries to provide stable temperature environment for recording instruments. The temperature correction is an important part of data reduction. The manufacturers use different ways to reduce the temperature effect on instruments. Having a lot of trouble working on this problem we decided to build a nonmagnetic temperature test hut in Tihany Observatory. In this hut we have tested temperature sensitivity of different types of magnetometers. In this paper we present some of our results.
Temperature influence over the magnetic declination measurements
Author(s):
Cholakov I.
,
Srebrov B.
Series:
(C-99), 2007, pp.178-182
Abstract:
An investigation of temperature influence over magnetic declination measurements in geomagnetic observatory Panagyurishte is made. The examined period is from 1991 to 2005. A good correlation between the declination base values and the seasonal temperature variation is shown.
Development of artificial geomagnetic disturbances monitoring system
Author(s):
Okawa T.
,
Tokumoto T.
,
Nakajima S.
,
Owada T.
Series:
(C-99), 2007, pp.183-188
Abstract:
The performance of geomagnetic field measuring instruments is quite good now. However, our life styles are changing with urbanization, and sometimes this has a bad influence on the environment of observations. Vehicles which run near an observation point are especially troublesome, making it difficult to keep the progress of data quality. We aimed to build a system to monitor artificial disturbances, to be completed in 2006. Using this system, we expect to obtain more accurate analytical results.
Intercomparison of momentary values: an application to check the reliability of Ebre Observatory data
Author(s):
Marsal S.
,
Curto J.
Series:
(C-99), 2007, pp.189-195
Abstract:
Intercomparison of momentary values from observatories across Europe has been used as a test of reliability for the magnetic stations of this area, as well as for the whole net. One of the techniques used, based on the standard deviation of the mutual differences of monthly mean values, has permitted to obtain a measure of quality of the Ebre Observatory (EBR) magnetic elements for the period 1997-2001. The results nearly coincide with those obtained for the most significant observatories of the network, pointing out a good performance of EBR observatory.
Survey of magnetic observatory charging practices
Author(s):
Newitt L.
Series:
(C-99), 2007, pp.196-200
Abstract:
A survey of institutes operating magnetic observatories reveals that many are dependent or somewhat dependent on revenue received for data and services. Although policies vary from institute to institute, the practice of charging for data applies only to commercial users. Other services for which charges are normally applied include calibration services, instrument development and specialized surveys. Although most institutes are not dependent on revenue for their core activities, they rely on revenue to finance many non-essential operations.
A new geomagnetic field model for Southern Africa based on 2005 ground survey data
Author(s):
Kotze P.
,
Mandea M.
,
Korte M.
Series:
(C-99), 2007, pp.201-208
Abstract:
Geomagnetic field observations over southern Africa, including countries like South Africa, Namibia, and Botswana, were conducted during October and November 2005 as part of a collaborative project, called COMPASS (COmprehensive Magnetic Processes under the African Southern Sub-continent) between the Hermanus Magnetic Observatory (HMO) in South Africa and the GeoForschungsZentrum Potsdam (GFZ) in Germany.
For this purpose some 40 repeat stations were identified, separated by distances ranging from 300 till 400 km. These stations form part of a network of 75 repeat stations, established by the HMO during the last 60 years, and visited at regular intervals of 5 years till 2000. Due to the rapid secular variation change over this area, it was decided to conduct annual surveys at a reduced number of repeat stations. Therefore, between 2000 and 2004 surveys were conducted at a total of 12 stations on an annual basis. This did however not allow for good spatial resolution, hence the increased number of stations in 2005. For the field survey of 2005 the stations were also selected to form two independent sets of 20 beacons each, enabling one to visit these at alternative years respectively. During this campaign 2 teams, consisting of both HMO and GFZ observers, using similar DI Flux theodolites and fluxgate variometers, gathered geomagnetic field data over southern Africa.
Results obtained from this field survey, together with information from the 3 continuously recording magnetic observatories in southern Africa at Hermanus, Hartebeesthoek and Tsumeb, have been used to model the main geomagnetic field, employing a polynomial approach.
Systematic magnetic observations in Italy
Author(s):
Meloni A.
,
Cafarella L.
,
De Michelis P.
,
De Santis A.
Series:
(C-99), 2007, pp.209-216
Abstract:
Istituto Nazionale di Geofisica e Vulcanologia (INGV) is responsible for systematic magnetic observations in Italy made in observatories and repeat stations. At present, two regularly working geomagnetic observatories cover central and northern Italy: L'Aquila (the main Italian observatory since 1958) and Castello Tesino (since 1964). A new observatory is, at the moment, being installed in the southern Mediterranean (near Sicily) at Lampedusa Island. Once this installation is successfully completed, the three observatories will be able to provide a full coverage of the whole Italian latitudinal extension.
A network of magnetic repeat stations is regularly distributed across Italy and measurements in some locations have been made for more than a century. Since the end of the 1970's, INGV has been developing a modern repeat station network used for the compilation of the Italian magnetic maps. The most recent survey was made between 2004 and 2005 using L'Aquila Observatory as reference.
The newest measurements of the total magnetic field strength in Croatia
Author(s):
Marki A.
,
Verbanac G.
,
Vujić E.
,
Vujnović V.
Series:
(C-99), 2007, pp.217-226
Abstract:
In autumn 2003 we made a ground survey of total magnetic field strength in a part of Croatia from river Drava north to river Sava and Pokuplje, between the lines Zagreb–Koprivnica in the west, and Hrvatska Kostajnica–Virovitica in the east. During summer 2004 measurements were extended to the north-western part of Croatia (Hrvatsko Zagorje and Žumberak), and also to 100 km south from Zagreb (Banovina). Also, measurements during 2005 were performed in the region from river Kupa on south and river Drava on north. A total of 56 positions were surveyed in a net with spacing of 15-20 km. For data reduction, the total field strengths were recorded at the geomagnetic observatories Tihany and Fuerstenfeldbruck. Isodynames were obtained for the observed region at epoch 2004.5. Basic purpose of our measurements is to find roughly the position for the Geomagnetic Observatory.
Correlation between IGRF2000 model and measured geomagnetic data on the territory of the Republic of Macedonia from 2003 and 2004 measurements
Author(s):
Panovska S.
,
Delipetrov T.
,
Delipetrev B.
,
Delipetrev M.
Series:
(C-99), 2007, pp.227-233
Abstract:
On the basis of the measurements carried out in 2003 and 2004 on the network of repeat stations in the Republic of Macedonia, correlation between IGRF and the 2003 model as well as the 2004 model and analysis between the models were made. It should be taken into consideration that the difference in altitude among repeat stations (15 points) is about 1300 m (Galicica is at the highest elevation above sea level, of 1691 m, and Nikolic at the lowest, of 300 m). During data processing, correction for altitude was not made, and measured data were corrected with the data from neighboring observatories Panaguirishte (Bulgaria), Tihany (Hungary) and Aquila (Italy). The paper presents correlations between IGRF model and 2003 and 2004 model for all components of geomagnetic field. The time changes for 2003 and 2004 were also calculated.
Geomagnetic data of the Republic of Macedonia obtained in 2004
Author(s):
Delipetrev M.
,
Delipetrov T.
,
Delipetrev B.
,
Panovska S.
Series:
(C-99), 2007, pp.234-241
Abstract:
During 2004, measurements of the geomagnetic field were carried out on the existing network of repeat stations (15 points) of the Republic of Macedonia. The equipment used was from the Royal Observatory, Dourbes, consisting of: 1 Diflux/GPS receiver type FLM3/A serial 001, 1 Proton magnetometer Geometrics G816 (electronics + sensor) serial 1579, 1 Geodetic Tripod and 1 Monocular digital compass KVH Data scope II pn#01-0162 Serial 02070033 and the equipment from the Faculty of Mining and Geology, Stip: 1 Diflux type LEMI 203 (from Tempus JEP Project "Geomagnetic measurements and quality standards") and proton magnetometers Bison and Geometrics. The territory of the Republic of Macedonia is relatively small, but from the point of view of its geology it is very complex and differentiated. The relief consists of high mountain massifs of up to 2700 m separated by blocks of subsidence and depressions. The field measurements included observation of the total vector of the geomagnetic field F, declination D, and inclination I. All parameters of the geomagnetic field of the Republic of Macedonia were calculated based on the measurements. Based on the results of the elements of the geomagnetic field and observations carried out in 2004, it can be determined that: the total vector F varies about 800 nT, the inclination I varies less than 2 degrees, and the declination D is less than 1 degree.
Repeat station data reduction using the CM4 model
Author(s):
Andriambahoaka Z.
,
Schott J.
,
Ranaivonomenjanahary F.
Series:
(C-99), 2007, pp.242-249
Abstract:
As an alternative to the commonly used method for the reduction of repeat station data, we have tested the relevance of the CM4 model for removing the external field. The dense network of observatories in Western Europe offers a good opportunity for this study. The prospect, however, is to elaborate a method which could be applied to the repeat station network of Madagascar, where only one observatory is available and the distance to the remotest repeat station is about 800 km.
Report on activities and plans of MagNetE - the Group for European Repeat Station Surveys
Author(s):
Duma G.
Series:
(C-99), 2007, pp.250-251
On separation of the secular variations from different origins
Author(s):
Sumaruk Y.
Series:
(C-99), 2007, pp.252-259
Abstract:
Secular variations (SV) are a complex phenomenon in time and space. The main origin of SV is inside the Earth. But SVs are complicated by external sources such as variations due to the magnetospheric and ionospheric currents and also by currents induced in the crust. There is an anticorrelation between the time changes of SVs and geomagnetic activity. Especially, one can see it on short period (one year) SV changes of the horizontal component of the geomagnetic field (ΔSV(H)). If we express geomagnetic activity by means of some geomagnetic index, as, e.g., Kp, we can derive a linear regression equation between ΔSV(H) and ΔΣKp, where ΔΣKp is the difference between mean yearly values of Kp. Usually the correlation coefficient between these values does not exceed 0.4-0.6. The sensitivity of ΔSV(H) to ΔΣKp for individual observatories varies. For European observatories the highest sensitivity exists for the Surlari magnetic observatory.
By subtracting ΔSV(H) dependent on ΔΣKp from ΔSV(H), we obtain ΔSV1(H) independent of magnetic activity. The resulting SV1(H) at observatories of the northern hemisphere of the Earth appear to be in accordance with a quasisinusoidal law. The period of the quasi-sinusoids is about 78-80 years. The mean-per-cycle Wolf numbers of solar activity show the same changes. This means that by subtracting these long period variation from ΔSV1(H), we can find out the SV variation independent of the geomagnetic and solar activity (ΔSV2(H)).
It is interesting to note that the zero isoline of such ΔSV2(H) passes through regions of intense tectonic activity.
Experimental modeling of the impact effects on the magnetic susceptibility of geological materials
Author(s):
Lamali A.
,
Rochette P.
,
Gattacceca J.
,
Boustie M.
Series:
(C-99), 2007, pp.260-267
Abstract:
It is known that magnetic susceptibility of ferromagnetic materials changes if mechanical stress is applied. Various magneto-mechanic interactions can contribute to this variation. Elsewhere, it has been recognized, physically, that magnetostriction and magnetic hysteresis are intrinsically coupled phenomena. This study examined the hysteresis loops of shocked geological materials with different magnetic mineralogy. We calculated the differential magnetic susceptibility from hysteresis loops obtained from rock specimens after they were impacted using high-order explosives (penthrite). Maximum pressure is about 20 GPa. The experimental setup and procedure are described and a large number of the obtained experimental results are presented and discussed.
World monthly means database project
Author(s):
Chulliat A.
,
Telali K.
Series:
(C-99), 2007, pp.268-274
Abstract:
Observatory monthly means are widely used for studying geomagnetic secular variation. They provide a better time resolution than annual means and are well suited for investigating the so-called geomagnetic jerks. While annual and hourly means have been compiled for a long time within the WDC system, no such tradition exists for monthly means. This project aims at filling the gap by building a publicly available monthly means database. It is also motivated by the need to resolve occasional inconsistencies between annual and hourly means present in WDCs. To begin with, we computed monthly means for all INTERMAGNET observatories from WDC hourly means. We stored them in a data format providing information on data discontinuities ("jumps"), as well as data components, quality and sources. Then we assessed the quality of the data by systematically comparing them with WDC annual means and with predictions of the CM4 geomagnetic model (Sabaka et al. 2004). Although most of the data are valid, some serious discrepancies arise, requiring that some observatories correct their data.
Worldwide observatory hourly means from 1995 to 2003: investigation of their quality
Author(s):
Korte M.
,
Mandea M.
,
Olsen N.
Series:
(C-99), 2007, pp.275-283
Abstract:
We examined the hourly mean values from worldwide geomagnetic observatories as available from the World Data Center C1, Copenhagen, for erroneous or problematic data. A number of outliers and jumps were found, as well as instabilities in baseline control. It is impossible to correct all these data without checking the original values at the individual observatories again. We provide a table of identified problems to alert both users and the data owners about them and encourage each observatory to correct their data where possible.
Panagjurishte Observatory upgrade for INTERMAGNET
Author(s):
Linthe H.
,
Cholakov I.
,
Mandea M.
Series:
(C-99), 2007, pp.284-290
Abstract:
Panagjurishte Geomagnetic Observatory was installed in 1937. From that time, this observatory runs continuously, the used instruments being a classical set made by Mating & Wiesenberg, Potsdam. A long collaboration exists then between Panagjurishte Observatory and Adolf Schmidt Geomagnetic Observatory Niemegk. In 2005 the GeoForschungsZentrum (GFZ) Potsdam and the Geophysical Institute Sofia of the Bulgarian Academy of Sciences (GIBAS) agreed in a cooperative programme, the aim being to upgrade the Panagjurishte Observatory with modern instruments in order to qualify it as an IMO. The GFZ provided a DI-flux theodolite, a vector and a scalar variometer and the data logger. The GIBAS purchased 2 computers, an uninterruptible power supply unit, network components and the internet connection. A Polish proton magnetometer is still in use. The arrangement of the instruments, comparisons of the classical and the modern system and the first results of absolute measurement reductions are presented.
New INTERMAGNET fluxgate magnetometer
Author(s):
Korepanov V.
,
Klymovych Y.
,
Kuznetsov O.
,
Pristay A.
Series:
(C-99), 2007, pp.291-298
Abstract:
The peculiarities of a candidate INTERMAGNET compatible 1-second magnetometer design are considered and analyzed. A new magnetometer functional diagram, which combines analogue and digital processing, is proposed. The first results of the magnetometer prototype tests are presented and discussed.
Magnetic observatories in the 21st century: an endangered species?
Author(s):
Kerridge D.
Series:
(C-99), 2007, pp.299-307
Abstract:
Magnetic observatories have a long history of producing data that has led to many scientific discoveries. However, a long history is no guarantee of a long future and it is important to keep under review the factors that influence the support given to magnetic observatory operations. The data that observatories produce must be seen to be relevant to current and future scientific research, and also to 'real-world' applications. By understanding local and international demands for data, in terms of quality, resolution and availability, observatories can tailor their operations, choosing appropriate instrumentation and methods for data acquisition processing and distribution. The INTERMAGNET programme has attempted to address several of these issues.
A search for users of magnetic observatory data
Author(s):
Newitt L.
Series:
(C-99), 2007, pp.308-314
Abstract:
Statistics on the use of magnetic observatory data are not easy to come by. However, over three hundred day-files per month for each observatory are downloaded from the INTERMAGNET web site. Observatory data and derived products such as indices are widely used by researchers. An examination of eight widely read journals indicates that over 80% of the articles that deal in some way with geomagnetism use either data or products. Use by industry also appears to be extremely large.
On the use of fast registrations of observatories as a reference for magnetotelluric measurements
Author(s):
Neska A.
Series:
(C-99), 2007, pp.315-322
Abstract:
Surprisingly, some records of geomagnetic variations measured in observatories are able to support magnetotellurics, a geophysical branch relatively far away from investigations of the magnetic field itself. Magnetotellurics is an electromagnetic induction method to study the solid Earth. The way it can benefit from geomagnetic observatories is outlined here.
Experience with new geomagnetic activity index E based on power spectra
Author(s):
Reda J.
Series:
(C-99), 2007, pp.323-329
Abstract:
Properties of classical magnetic activity indices K and new indices E based on power spectra are described. Relation between the two indices and magnetic activity is discussed. A comparison of correlation of planetary indices Ep and Kp with solar wind parameters is made.
Installation of a high resolution potassium magnetometer in the coast of Oaxaca, Mexico
Author(s):
Cifuentes-Nava G.
,
Cabral-Cano E.
,
Hernandez-Quintero E.
,
Hrvoic I.
Series:
(C-99), 2007, pp.330-338
Abstract:
In the up-to-date significant investments in earthquake studies and especially in detection of earthquake precursors there is a lot of emotional and in general non-critical measurements of precursors. We are trying to establish some kind of reference conditions for detection of precursors. A brief analysis of the number of measurements and especially Loma Prieta precursor is given. Based on Loma Prieta precursor and in general confirmed by a series of other precursors, a spatial distribution of expected magnetic anomalies for a given magnitude of earthquake was calculated. Different methods of measurement are assessed and a short base gradient method explained. Supersensitive (50 fT) potassium 3 sensor gradiometer is described and some initial field data presented.
Upstream wave related Pc3 pulsations observed by the MM100 meridional magnetometer array
Author(s):
Heilig B.
,
Csontos A.
,
Pankratz L.
,
Pajunpaa K.
Series:
(C-99), 2007, pp.339-346
Abstract:
The upstream waves (UWs) are typically 20-30 s magnetosonic waves generated in the Earth's foreshock region. Under appropriate interplanetary conditions the UWs are able to enter the magnetosphere, propagate across field lines down to the ionosphere and reach the ground as Pc3 geomagnetic pulsations. In the past years, a semi-automated method was developed to monitor UW-related geomagnetic pulsation activity. The method was based on cross spectral density estimation of signals recorded at meridionally distributed stations or by satellites at LEO (CHAMP). The MM100 meridional array, including Finnish, Polish, Slovak and Hungarian observatories, was established in 2001. In the present paper we review the first results of the analysis of UW-related ground pulsations observed by the MM100 network. We demonstrate the relation of these pulsations to upstream phenomena and consequently, to the state of the interplanetary medium.
Study of geomagnetically induced current from time derivative of the Earth's magnetic field
Author(s):
Vodjannikov V.
,
Gordienko G.
,
Nechaev S.
,
Sokolova O.
Series:
(C-99), 2007, pp.347-352
Abstract:
One of negative impacts of space weather on technological systems is the occurrence in conducting ground systems (electric power systems, pipelines) of geomagnetically induced current (GICs) caused by variations of the geomagnetic field during large magnetic storms. Analysis of variations of the horizontal component (H) of the geomagnetic field and its time derivative (dH/dt) for seven periods of high magnetic activity in 2003-2005 is carried out using data from magnetic observatories Alma-Ata, Novosibirsk and Irkutsk. Distributions of directions of H and dH/dt are derived. It is shown that the large dH/dt determining significant GICs are caused by variations of a magnetic field of three types: a sudden pulse (SI) observed in the beginning of a magnetic storm, pulsations, and casual variations of the field during a magnetic storm.
Long-term variation of the geoelectric activity index T
Author(s):
Kis A.
,
Koppan A.
,
Lemperger I.
,
Prodan T.
Series:
(C-99), 2007, pp.353-359
Abstract:
We study the long-time behavior and variability of the Earth geomagnetic activity based on the uniquely long geoelectric field observations recorded at the Nagycenk Geophysical Observatory for the past five decades. According to our results there is no clear correlation between the solar activity (expressed in sunspot number) and the daily T index. On the other hand, we found an almost linear relation between the Ap and T indices.
ULF geomagnetic pulsations at high latitudes: the Italian contribution
Author(s):
Cafarella L.
,
De Lauretis M.
,
Di Mauro D.
,
Francia P.
Series:
(C-99), 2007, pp.360-365
Abstract:
The study of geomagnetic field variations in Antarctica is important in that local field lines are close to extreme magnetospheric regions, such as the polar cusp, where several generation mechanisms for ULF waves are active.
Since the eighties, the Italian scientific community developed a research activity in Antarctica at Mario Zucchelli Station (TNB, CGM latitude 80°S), where magnetic facilities are continuously operating. In this review we present the experimental results obtained by a number of investigations conducted in the last years on geomagnetic pulsations in the Pc3-Pc5 frequency range. We also show compared analyses with measurements from other Antarctic and low latitude stations, and, in particular, a statistical analysis of propagation characteristics of low frequency geomagnetic field fluctuations between the two Antarctic stations, TNB and Scott Base.
Morphological features in the structure of geomagnetic variations in relation to earthquakes in Vrancea
Author(s):
Bakhmutov V.
,
Sedova F.
,
Mozgovaya T.
Series:
(C-99), 2007, pp.366-373
Abstract:
On example of the Vrancea seismic zone, the correlation between geomagnetic field disturbances and earthquakes is shown. The geomagnetic situation was studied for more than 200 earthquakes during the period 1988-1996. The significant statistical material has demonstrated that the polar sub-storms and their middle-latitudinal manifestation is a trigger mechanism for realization of the seismic energy in Vrancea. The release of seismic energy is related to abrupt changes (gradients) in H-component of geomagnetic field. The energy class of the earthquake is connected with the amplitude of the change in H-component. The differences between durations of near-midnight polar sub-storms preceding earthquakes on various depths have been determined. Taking into account the temporal interval from maximum of sub-storm up to the shock, the connection between geomagnetic disturbances and earthquakes is always positive. The time interval between maximum of polar sub-storm and earthquake is correlated with the depth of the earthquake.
The new index of geomagnetic activity
Author(s):
Sumaruk T.
,
Sumaruk Y.
Series:
(C-99), 2007, pp.374-379
Abstract:
Up-to-date indices of geomagnetic activity are widely used for scientific purposes. The indices Dst, Kp and AE characterize activity of geomagnetic field at low, middle and high latitudes, respectively. However, these indices do not characterize the energy injected into the magnetosphere by the solar wind, although the change of energy has an influence on the meteorological and biological Earth's processes. The AE index is the most suitable for this aim, but it is set too low for disturbed periods. We propose index Σ(H−Sq). This index may be effectively calculated on middle latitude magnetic observatories data.
The index is determined as a daily sum of differences between mean hourly values of horizontal (H) component and corresponding mean hourly values of H on five international quiet days of the preceding month.
The new index corresponds to the standard AE index for quiet day periods and is better than AE′ for disturbed periods.
On geomagnetic activity forecasting
Author(s):
Sumaruk T.
,
Sumaruk P.
Series:
(C-99), 2007, pp.380-382
Abstract:
The mean-term forecasting of geomagnetic activity has been carried out at the geomagnetic observatory "Lviv" during 2001-2005. The forecasts are based on 27-day recurrence of solar and geomagnetic activity, their changes during the solar cycles and existence of the so-called "active longitudes on the Sun".
The existence of the "active longitudes on the Sun", especially during the decay phase of solar cycle, allows to improve the forecasting. The successful forecast of geomagnetic storms was in about 65% of cases. An accuracy of the forecast increases with decreasing geomagnetic activity.
Fast analysis of the solar wind energy
Author(s):
Sumaruk Y.
,
Sumaruk T.
Series:
(C-99), 2007, pp.383-387
Abstract:
The solar wind energy injected into the magnetosphere may be evaluated by means of the AE-index of the geomagnetic activity. However, these indexes are underestimated for the disturbed periods and available too late to be efficiently used. For a fast analysis, daily sums of the differences between the mean hourly values of horizontal component and the corresponding mean hourly values of H on five international quiet days have been used instead of the AE-index.
These sums were calculated from the data of mid-latitude observatories. They have a high correlation with the corrected AE-indexes for the quiet and disturbed periods. Using these sums, the solar wind energy injected into the magnetosphere was estimated for the years 1953-2001 as the daily, monthly and yearly values. It is shown that the energy increased with increasing solar and magnetic activity. At some cycles of the solar activity, the increase of the injected energy continued for several years on the descending phases of cycles and at some cycles the injected energy and solar activity have changed their phase.