Seismological Bulletin 1999. Local Earthquakes Recorded by Polish Seismological Stations
Author(s):
Draber D.
,
Guterch B.
,
Lewandowska-Marciniak H.
,
Niewiadomski J.
Volume:
350
Series:
B-29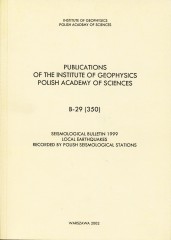 The bulletin contains a list of local seismic events recorded in 1999 in Poland. The events were induced by mining in the Upper Silesian Coal Basin, Rybnik Coal District, and Lubin Copper Basin. Eight seismological stations were in operation in 1999 at the Institute of Geophysics, Polish Academy of Sciences: Czajcze (CZA), Kalwaria Pacławska (KWP), Książ (KSP), Niedzica (NIE), Ojców (OJC), Racibórz (RAC), Suwałki (SUW), and Warszawa (WAR).
CONTENTS
Local earthquakes recorded by the Polish seismological stations 1999 (general information), ...3
Upper Silesian Coal Basin 1999, ...9
Lubin Copper Basin 1999, ...71
Export