Local Earthquakes Recorded by Polish Seismological Stations 1995-1997
Author(s):
Draber D.
,
Guterch B.
,
Lewandowska-Marciniak H.
Volume:
336
Series:
B-24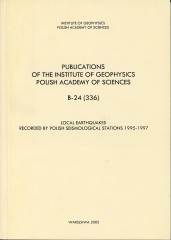 The majority of seismic events recorded in Poland are caused by mining activity, mostly in the Upper Silesian Coal Basin and Lubin Copper Basin. Induced seismicity is observed less frequently in the Rybnik Coal District and the Bełchatów Surface Coal Mine area. Local tectonic earthquakes occur in Poland extremely seldom. In the years 1995 and 1997, weak tectonic earthquakes were recorded in Podhale, Western Carpathians, along the mostnorthern part of the Pieniny Klippen Belt.

CONTENTS
Local earthquakes recorded by the Polish seismological stations 1995-1997, ...3
Seismological bulletin of local earthquakes in Poland 1995, ...15
Seismological bulletin of local earthquakes in Poland 1996, ...69
Seismological bulletin of local earthquakes in Poland 1997, ...137
Export