Seismological Bulletin 2001. Local Earthquakes Recorded by Polish Seismological Stations
Author(s):
Draber D.
,
Guterch B.
,
Lewandowska-Marciniak H.
,
Niewiadomski J.
Volume:
366
Series:
B-33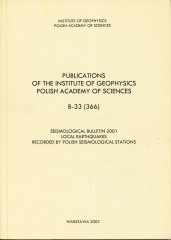 The bulletin contains a list of local earthquakes which occurred in 2001 in Poland. The majority of seismic events recorded in Poland are caused by mining activity in the Upper Silesian Coal Basin and Lubin Copper Basin. Induced seismicity is observed less frequently in the Rybnik Coal District and Bełchatów Open-Pit Mining area. In 2001, a few local tectonic earthquakes occurred in the Western Carpathians at distances up to about 30 km from station Niedzica.
CONTENTS
Local earthquakes recorded by Polish seismic stations 2001, ...3
Upper Silesian Coal Basin 2001, ...11
Lubin Copper Basin 2001, ...99
Western Carpathians 2001, ...140
Bełchatów 2001, ...141
Export