A Parabolic Relation between the Surface Heat Flow and Radiogenic Heat Production for Heat Flow Provinces
Author(s):
Maj S.
Volume:
204
Series:
A-18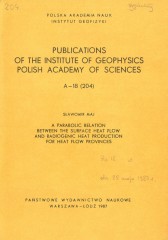 A nonlinear (parabolic) relation between the surface heat flow J and radiogenic heat generation Q in crystalline ground for the heat flow provinces is derived.
In this paper certain synthesis and further development or the considered problems is presented. In particular, the parabolic HF-HG relation is deduced for the case of a heat flow province model in which the radiogenic heat production decreases exponentially with depth. The HF-HG relation is also obtained, in a simpler way, from the fundamental heat flow density - thermal conductivity of a rock-layer decreases linearly with increasing temperature.
CONTENTS
Abstract, ...3
Introduction, ...4
1. Heat flow provinces, ...5
2. The Birch-Roy-Decker linear relation, ...8
3. Parabolic relation J² = AQ, ...16
4. Reduced heat flow - mean heat flow relation, ...26
5. Standard heat flow provinces, ...30
6. Temperature coefficient of the phonon thermal resistivity, ...48
7. Conclusions, ...51
References, ...52
O parabolicznej zależności między strumieniem cieplnym i ciepłem radiogenicznym w prowincjach geotermicznych
(streszczenie), ...58
Export