Seismological Bulletin 1991-1992. Local Earthquakes Recorded by the Polish Seismological Stations
Author(s):
Draber D.
,
Guterch A.
,
Lewandowska-Marciniak H.
Volume:
316
Series:
B-21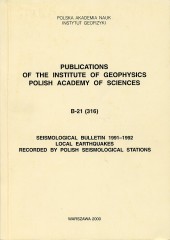 The bulletin contains a list of local seismic events recorded in 1991-1992 in Poland. Most of these events were induced by mining in the Upper Silesian Coal Basin, Rybnik Coal District, and Lubin Copper Basin. A few local tectonic earthquakes occurred only in 1992 in the Western Carpathians in the border area between Poland and Slovakia, and in the Sudetes in the border area between Poland and the Czech Republic.
CONTENTS
Local earthquakes recorded by the Polish seismological stations 1991-1992 (general information), ...3
Upper Silesian Coal Basin 1991, ...9
Lubin Copper Basin 1991, ...41
Upper Silesian Coal Basin 1992, ...57
Lubin Copper Basin 1992, ...103
Western Carpathians 1992, ...125
Sudetes 1992, ...129
Bełchatów Surface Coal Mine 1992, ...131
B. Guterch, H. Lewandowska-Marciniak, P. Labak, J. Niewiadomski - Macroseismic data of local seismic events 1992-1993, Krynica region, Western Carpathians, ...133
Export