Seismological Bulletin 2005. Polish Broadband Seismic Stations SUW, KWP, WAR, GKP, KSP, OJC, RAC, NIE
Author(s):
Jankowska W.
,
Kowalski P.
,
Zych A.
Volume:
396
Series:
B-39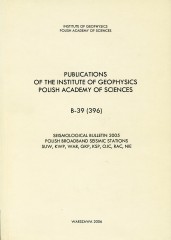 In 2005, the Polish Seismological Network of the Institute of Geophysics, Polish Academy of Sciences, consisted of eights sites. Of these sites, six were broadband, one long-and-short period, and the short period site at NIE.
Following the nine actual activity reports of Polish broadband seismic stations, the report of 2005 covers all stations of the Polish Seismological Network (PLSN) in Poland. During 2005 the stations worked out without problems.
CONTENTS
Introduction, ...3
Phase readings, ...11
Seismograms, ...289
Export