Magnetic Anisotropy of Magmatic Rocks
Author(s):
Kądziałko-Hofmokl M.
Volume:
156
Series:
C-12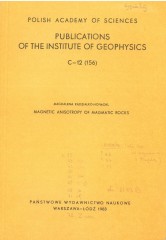 Magnetic torque and rotational hysteresis in the field ranging from 0.01 to 0.5 T of 82 rock samples have been investigated. The rock collections consisted of basalts, dolerites, peridotites, norites, anorthosites and ores. By means of numerical analysis of their torque curves it has been stated, that the uniaxial anisotropy dominates in majority of them. In some samples of basalts and dolerites it is accompanied by the exchange anisotropy. Magnetocrystalline anisotropy of cubic minerals appears in a coarse grained dolerite samples, anorthosites and ores. Correlation analysis performed for the magnetic anisotropy and other magnetic and paleomagnetic characteristics provided evidence for some statistically significant correlations.
CONTENTS
1. Introduction, ...3
1.1 Parameters characterizing the magnetic anisotropy, ...4
1.2 Experimental procedure and analysis of experimental results, ...6
2. Investigations of monomineral samples, 10
2.1 Magnetite Fe3O4, ...10
2.2 Hematite α - Fe2O3, ...13
2.3 Ferriilmenite y FeTiO3 - (1-y) α - Fe2O3, ...15
2.4 Conclusions, ...20
3. Investigations of magmatic rock samples, ...21
3.1 Magnetic anisotropy of basaltic rocks, ...21
3.2 Magnetic anisotropy of dolerites, ...37
3.3 Magnetic anisotropy of peridotites, ...43
3.4 Magnetic anisotropy of norites, anorthosites, and magnetite-ilmenite ores, ...45
4. Statistical analysis of the results of magnetic anisotropy studies, ...55
5. Summary and conclusions, ...74
References, ...79
Streszczenie, ...82
Export