Atmospheric Ozone and Optics of Atmosphere, Belsk 1966
Author(s):
Volume: 19
Series: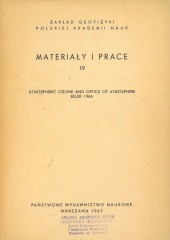 Ozone observations have been made by means of Dobson No. 84 spectrophotometer in the Geophysical Observatory at Belsk since March 1963.
Vertical ozone distribution is illustrated by two kinds of tables: the results of "umkehr" observations and the vertical distribution of ozone computed by the Meteorological Service of Canada under the sponsorship of WMO.
CONTENTS
Results of Observations of the Total Amount of Atmospheric Ozone and its Vertical Distribution for the Period 1.I.-31.XII.1966 / Wyniki obserwacji całkowitej zawartości i rozkłądu pionowego ozonu atmosferycznego w Belsku na okres od 1.I. do 31.XII.1966 roku (A. Dziewulska-Łosiowa, M. Górski), ...3
Results of Observations of Atmospheric Turbidity, Duration of Sunshine and Total Radiation (of Sun and Sky) at Belsk for 1966 / Wyniki obserwacji ekstynkcji atmosferycznej, usłonecznienia i promieniowania globalnego (słońca i nieba) w Belsku za rok 1966 (J. Paszyński, J. Słomka), ...41
A. Dziewulska-Łosiowa - The Analysis of the Accuracy of Atmospheric Ozone Observations Made at Belsk Observatory, 1966 / Analiza dokładności pomiarów ozonu atmosferycznego w Obserwatorium Geofizycznym w Belsku, 1966, ...57
W. Romaniuk - Stabilized Power Supply Mod. Z.S. - 107-64 of Dobson Spectrophotometer / Zasilacz stabilizowany Mod. Z.S. - 107-64 do spektrofotometru Dobsona, ...59
W. Romaniuk - An Application of the Phase Discriminator in Dobson Spectrophotometer for Measurement by Zero Method / Zastosowanie dyskryminatora fazy do spektrofotometru Dobsona do pomiary metodą zerową, ...69
Export