Atmospheric Ozone, Optics and Aerosol of the Atmosphere, Belsk 1967
Author(s):
Volume: 26
Series: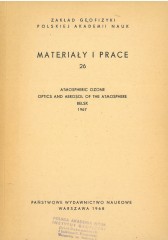 Ozone observations have been made by means of Dobson No. 84 spectrophotometer in the Geophysical Observatory at Belsk since March 1963.
Vertical ozone distribution is illustrated by two kinds of tables: the results of "umkehr" observations and the vertical distribution of ozone computed by the Meteorological Service of Canada under the sponsorship of WMO.
CONTENTS
Results of Observations of the Total Amount of Atmospheric Ozone and its Vertical Distribution for the Period 1.I-31.XII.1967 (A. Dziewulska-Łosiowa, M. Łękawska-Degórska, M. Górski), ...3
Duration of Sunshine and Global Radiation (of Sun and Sky) Belsk 1967 (A. Michałowska, J. Słomka), ...35
Horizontal Transparency of the Atmosphere Belsk 1.XI.-31.31.XII.1967 (S. Puchalski), ...63
Concentration of Condensation Nuclei, Belsk 1967 (K. Słomka, S. Warzecha), ...65
Electrical Conductivity of the Air, Belsk 1967 (A. Dziembowska, S. Puchalski, S. Warzecha), ...73
Meteorological Elements, Belsk 1967 (K. Słomka), ...86
Statement Regarding the Geographical Coordinates of Central Geophysical Observatory at Belsk, ...112
Export