BOOK OF EXTENDED ABSTRACTS. "Electromagnetic ULF/ELF Fields on Earth and in Space" Conference, Warsaw, Poland, 3-5 July 2019
Editor(s):
Kułak A.
,
Odzimek A.
Volume:
425
Series:
M-32
DOI:
10.25171/InstGeoph_PAS_Publs-2019-002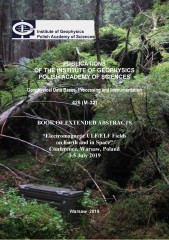 A common topic of the conference are issues related to physics and geophysics of naturalsystems generating fields of frequencies in the ULF (Ultra Low Frequency – 0.003 to 3 Hz) range and ELF (Extremely Low Frequency – 3 to 3000 Hz) range. In the range below 3 Hz, atypical geophysical division of the pulsation phenomena in the Pc1-Pc6 ranges was used. Currently, after the International Telecommunication Union (ITU) introduced a new division of frequency bands, there was chaos, because the former ELF range was divided into three ranges, and one of them is called a ULF range. The division currently used includes the following bands: ELF (Extremely Low Frequency – 3 to 30 Hz), SLF (Super Low Frequency – 30 to 300 Hz) and ULF (Ultra Low Frequency 300 to 3000 Hz).
CONTENTS
Preface by Andrzej Kułak and Anna Odzimek, ...3
The Schumann Resonance and its applications – Rezonans Schumanna i jego zastosowania, ...9
A. Kułak – Modern research on the Schumann Resonances – Współczesne badania rezonansu Schumanna, ...11
Z. Nieckarz, S. Zięba, and G. Michałek – Application of the Schumann Resonance spectral decomposition for the analysis of
earth-ionosphere cavity attenuation – Zastosowanie metody dekompozycji widma rezonansu Schumanna w celu analizy
tłumienia wnęki Ziemia-jonosfera, ...23
K. Martyński, A. Kułak, and J. Młynarczyk – Studies on annual variations of African Storm Centre using the Schumann
Resonance decomposition method – Badanie rocznych zmian afrykańskiego centrum burzowego przy użyciu metody
dekompozycji rezonansu Schumanna, ...31
A. Kułak – Winfried Otto Schumann – An unfinished biography – Winfried Otto Schumann – niedokończona biografia, ...35
Observational systems, mathematical and numerical methods, modelling – Systemy pomiarowe, metody matematyczne i
numeryczne oraz modelowanie, ...39
M. Neska, P. Czubak, J. Reda – Schumann resonance monitoring in Hornsund (Spitsbergen) and Suwałki (Poland) –
Obserwacje rezonansu Schumanna w Hornsundzie (Spitsbergen) i w Suwałkach (Polska), ...41
J. Mlynarczyk, A. Kulak, S. Klucjasz, J. Kubisz, A. Michalec – First results from a new broadband ELF measurement system –
Pierwsze wyniki z nowego szerokopasmowego systemu pomiarowego ELF, ...47
J. Koperski – A few glances on fractional calculus from the geophysical-ELF point of view – Kilka spojrzeń na rachunek
frakcjalny z punktu widzenia badań geofizycznych ELF, ...51
ELF, LF and HF remote sensing – Teledetekcja w pasmie ELF, LF i HF, ...55
M. Gołkowski, A. Kulak, J. Mlynarczyk, J. Kubisz – ELF remote sensing of the lower ionosphere using group velocity of
electromagnetic radiation from atmospheric lightning discharges – Teledetekcja najniższej warstwy jonosfery przy pomocy
prędkości grupowej promieniowania elektromagnetycznego ELF od wyładowań atmosferycznych, ...57
J. Kozakiewicz – ELF exploration of Mars – Badanie Marsa za pomocą fal ELF, ...63
A. Neska, S. Oryński, K. Nowożyński – Schumann Resonance Monitoring (ELF) Records as Remote Reference Data for
Magnetotelluric Soundings – Obserwacje ELF jako dane referencyjne w magnetotelluryce, ...69
M. Pozoga, B. Matyjasiak, H. Rothkaehl, R. Wronowski, Ł. Tomasik – ELF signatures in low and high radio frequency signals –
Sygnatury ELF w obserwacjach sygnałów radiowych na falach długich i krótkich, ...71
G. Góral – SuperDARN radars – introduction – Radary SuperDARN – wprowadzenie, ...73
Thunderstorms, lightning discharges and ULF/ELF/LF radiation – Układy burzowe, wyładowania atmosferyczne i
promieniowanie w pasmie ULF/ELF/LF, ...83
K. Martynski, A. Kulak, J. Mlynarczyk, J. Blecki, R. Wronowski, R. Iwanski – Connections between electromagnetic signals
generated by Mesoscale Convective Systems, observed by an ELF ground station and DEMETER satellite – Powiązania
pomiędzy sygnałami elektromagnetycznymi wygenerowanymi przez Mezoskalowe Układy Konwekcyjne, obserwowane
przez naziemną stację ELF oraz satelitę DEMETER, ...85
P. Barański – Electric structure of multiple Cloud-to-Ground flashes obtained from the Local Lightning Detection Network
recordings during thunderstorm in the Warsaw region on 25 May 2018 – Struktura elektryczna doziemnych wyładowań
wielokrotnych na podstawie ich detekcji w sieci pomiarowej LSDWA w rejonie Warszawy podczas burzy 25-05-2018 r., ...89
A. Odzimek, M. Neska – First detection of spectral resonance structures of the ionospheric Alfvén resonance in ULF/ELF
magnetic field recorded at Suwałki, Poland – Pierwsze obserwacje widmowych struktur rezonansowych jonosferycznego
rezonansu Alfvéna w polu magnetycznym ULF/ELF rejestrowanym w rejonie Suwałk w Polsce, ...99
Download PDF
Export