Book of Extended Abstracts. International Symposium on Drought and Climate Change, 24–25 November 2022
Author(s):
Volume: 443
Series: E-13
DOI: 10.25171/InstGeoph_PAS_Publs-2022-028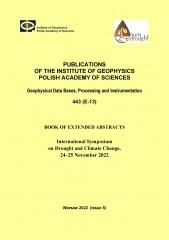 The International Symposium on Drought and Climate Change was organized within the frame-work of the NCN SHENG project HUMDROUGHT (humdrought.igf.edu.pl), by the Hohai University (China) and the Institute of Geophysics, Polish Academy of Sciences (Poland). The meeting was held online from 24–25 November 2022.
During the symposium, 4 Keynote and 19 standard Speeches were presented by representatives of 11 countries, namely: China, Columbia, Ethiopia, Germany, India, Iran, Italy, Netherlands, Poland, Spain, and Tunisia. The number of participants in the Symposium reached almost 50.
Drought-related issues have been discussed, focusing on multiple spatiotemporal scales to pin-point global to continental trends, as well as showing how drought affects specific countries and catchments.
C O N T E N T S

Preface, ...3
C. Massari – From Meteorological to Hydrological Drought in Europe: Amplification and Recovery, ...5
L. Yang, W. Wang, and J. Wei – Flash Drought Propagation in the Yangtze River Basin under Climate Change, ...7
A.A. İscan and M. Nones – Remote Sensing as a Tool to Monitor Drought at the Watershed Scale, ...9
A. Dubey, D. Swami, V. Gupta, and N. Joshi – Analysis of Drought Characteristics and Associated Parameters over Indus River
Basin, India, ...15
Y. Pan, Y. Zhu, and H. Lu – Agricultural Drought Assessment in Nine Agricultural Regions of China through Cross-Validation of
Multiple Data Products and Multiple Drought Indices, ...19
R. Yu, P. Zhai, and W. Li – Future Extreme Precipitation Will Be More Widespread in China under Different Global Warming
Levels, ...21
M.R. Eini, C. Massari, and M. Piniewski – Satellite-based Soil Moisture Could Enhance the Reliability of Agro-hydrological
Modeling in Large Transboundary River Basins, ...23
M. Schilstra, W. Wang, P. van Oel, and J. Wang – Effects of Water Storage and Demand on Hydrological Drought Propagation
in Upstream and Downstream Areas, ...25
P.M. Zhai and C.-P. Wang – Assessment of Drought Changes in China during 1961–2019 based on Various Indices, ...27
N. Abid and Z. Bargaoui – Quantile-quantile Correction of Satellite-based Relative Productivity in Northern Tunisia, ...29
U. Satzinger and D. Bachmann – Conceptual Approach for a Holistic Low-Flow Risk Analysis, ...35
E. Bogdanowicz, E. Karamuz, I. Markiewicz, and K. Kochanek – The Dynamics of Low Flows Characteristics and Exposure to
Hydrological Drought along the River Vistula and in its Basin, ...41
A.P. Gutierrez and J.L.Valencia Delfa – Time Series Clustering using Trend, Seasonal and Autoregressive Components:
Patterns of Change of Maximum Temperature in Iberian Peninsula, ...47
T. Senbeta, E. Karamuz, K. Kochanek, and J. Napiórkowski – Understanding the Temporal and Spatial Dimensions of
Socio-hydrological Vulnerability to Drought in the Context of Climate Change, Vistula River, ...55
E. Karamuz, I. Kuptel-Markiewicz, T. Senbeta, E. Bogdanowicz, and J. Napiórkowski – Discrepancies in the Spatial Assessment
of Drought – the Vistula Catchment Study, ...59
J. Krstajic, Q. Ye, J. Steyaert, and A. Shakya – Climate Change and Karst Aquifers – Methodologies Review, ...65
Download PDF
Export