Cosmic Rays Belsk 1968
Author(s):
Volume: 31
Series: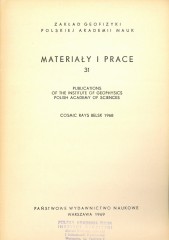 This is the third consecutive number of "Materiały i Prace" reporting the results of continuous recording of the intensity of the meson component of cosmic rays. It contains the findings obtained in 1968 at Central Geophysical Observatory at Belsk.
Given are the directly recorded hourly intensity values, corrected for barometric effect, and the hourly mean values of barometric pressure.
CONTENTS
Foreword (T. Kowalski), ...3
Meson telescope data direct readings, ...5
Meson telescope data air pressure corrected, ...17
Barometric pressure (mb), ...29

Export