Ozon Atmosferyczny i Optyka Atmosfery, Belsk 1964 rok
Author(s):
Volume: 10
Series: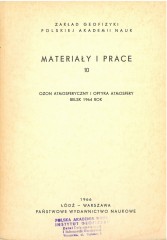 Ozone observations have been made by means of Dobson No. 84 spectrophotometer in the Geophysical Observatory at Belsk since March 1963.
Comments regarding these series of observations were given in the publication Zakład Geofizyki Polskiej Akademii Nauk, MATERIAŁY I PRACE, No. 5, "Ozon atmosferyczny i optyka atmosfery - Belsk 1963 rok".
CONTENTS
A. Dziewulska-Łosiowa, M. Górski, M. Łękawska-Degórska - Wyniki obserwacji całkowitej zawartości i rozkładu pionowego ozonu atmosferycznego w Belsku za okres od 1.I. do 31.XII.1964 roku / Results of observations of the total amount of atmospheric ozone and its vertical distribution for the period 1.I-31.XII.1964, ...3
A. Dziewulska-Łosiowa - Uwagi w sprawie metod obliczania rozkładu pionowego ozonu w atmosferze / Notes Concerning Methods of Vertical Ozone Distribution in the Atmosphere, ...33
J. Słomka - Wyniki obserwacji ekstynkcji atmosferycznej, usłonecznienia i promieniowania globalnego (słońca i nieba) w Belsku za rok 1964 / Results of Observations of Atmospheric Turbidity, Duration of Sunshine and Total Radiation (of Sun and Sky) at Belsk for 1964, ...57
S. Puchalski - Ilorazowy fotometr półsfery / Quotient Photometer of the Hemisphere, ...75
Export