Browse - Volume list
Results of Atmospheric Electricity and Meteorological Observations, S. Kalinowski Geophysical Observatory at Świder - 2005
Author(s):
Kubicki M.
Volume:
391
Series:
D-71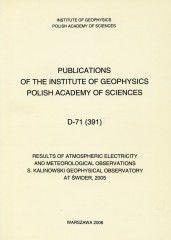 The present issue contains the results of recordings of some elements of atmospheric electricity and daily observations of major meteorological factors noted at the S. Kalinowski Geophysical Observatory of the Polish Academy of Sciences at Świder in 2005. Data for years 1957-1965 have been published in "Prace Obserwatorium Geofizycznego im. S. Kalinowskiego w Świdrze" and for 1966-2004 in "Publications of the Institute of Geophysics, Polish Academy of Sciences".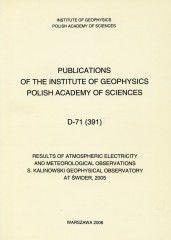 Nonstationary Flows of Viscous Fluids through Porous Elastic Media. Homogenization Method
Author(s):
Bielski W.
Volume:
388
Series:
A-29
Porous media found in the natural environment represent a good example of media with microstructure. Their pores contain different phases of liquids and gases filling them as well as the interfaces between the phases. This issue has been frequently discussed by soil physicists and chemists, chemical and petro engineers, seismologists and other researchers interested in geosciences.