M - Miscellanea
Mining Geophysics. Proceedings of the XXVI Polish-Czech-Slovakian Symposium, Wisła, Poland, September 23-25, 1998 *** Geofizyka Górnicza. Referaty Przedstawione na XXVI Polsko-Czesko-Słowackim Sympozjum w Wiśle (23-25 września 1998)
Editor(s):
Zuberek W.
Volume:
310
Series:
M-22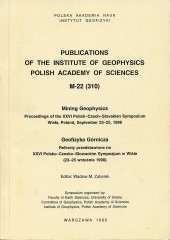 The volume contains the majority of papers presented at the XXVI Polish-Czech-Slovakian Symposium on Mining Geophysics held in Wisła, Poland, from 23rd to 25th September 1998.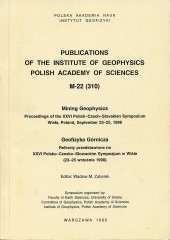 Proceedings of the International Conference "Nuclear Geophysics ´97", Kraków, 20-23 October 1997
Editor(s):
Woźnicka U.
Volume:
309
Series:
M-21
The aim of the conference was to present the actual status of the research in nuclear geophysics both in theoretical and applied fields, as well as a possibility of development of that scientific branch. Representatives of reaserchers from Great Britain, Russia, Sweden, Ukraine, United States, and from Poland, took part in the Conference.More than 20 papers presented on the Conference gave a review of the present status of nuclear geophysics research.