Browse - Volume list
Regional Conductivity Structures of the Earth´s Mantle
Author(s):
Semenov V.
Volume:
302
Series:
C-65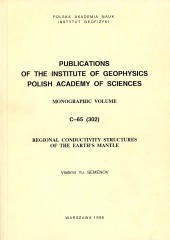 The publication describes the regional electromagnetic soundings of the Earth's mantle, mainly those performed and analyzed by the author during the last ten years. Theory as well as methodical and data processing details of the deep magnetotelluric and magnetovariation soundings have been considered for isotropic, anisotropic and nonlinearly conductive media. The response differences observed using geomagnetic observatory or satellite data for different regions are discussed in relation to surface conductance and the lithosphere plate boundaries. The results of the mantle conductivity estimations in Poland, Hungary, Ukraine, Slovakia and Byelorussia are compared with those in some other regions of the Earth. The sounding results obtained in the North Pacific region, including an active subduction zone at the Sakhalin Island, are presented too.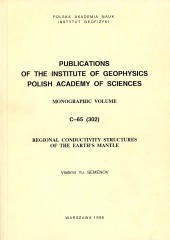 Results of Geomagnetic Observations, Polish Polar Station, Hornsund, Spitsbergen, 1994-1995
Author(s):
Glegolski W.
,
Gnoiński A.
Volume:
301
Series:
C-64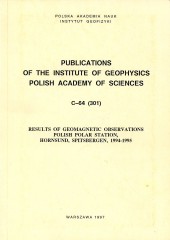 This volume contains the results of observations of the Earth's magnetic field carried out at the Polish Polar Station Hornsund in Spitsbergen in the years 1994 and 1995.